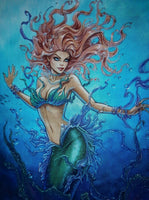 Hello Friends!!
Thank you for stopping by and checking out current inventory.
We have some beautiful variants and limited books coming anytime now, by some of the HOTTEST artists out there!
We have comics, trades, hardcovers, CGCs, prints and beautiful original artwork available for purchase.
Don't forget to check us out on eBay at Jay4LisaComics & GrannysComics. We have also joined HipComics at Jay4LisaComics.
Please email us at Jay4LisaComics@live.com with any offers or questions you have.
Thanks, Jay & Lisa